All smart bloggers understand the power of using Pinterest for blogging?
Are you one of them?
Are you using Pinterest for driving blog massive traffic for your blog?
No?
If you aren't using Pinterest for blogging, you are making a big mistake.
Why Should You Use Pinterest for Blogging?
Pinterest has more than 100 million active users that make it one of the best social media platforms.
Of course, it is still behind from Twitter and Instagram's 300 million+ and Facebook's 1.5 billion, but Pinterest users show unique interest in products and marketers that show on Pinterest.
It's a great social media platform for marketers and bloggers.
I have been using Pinterest since it started and I like it so much. I guess you felt the same way, if you have ever spent time on Pinterest.
Here is the definitive blogger's guide to using Pinterest for blogging.
How to Setup a Pinterest Account
In the first place, if you don't a Pinterest account, you have to create one.
Get over here and create your free account.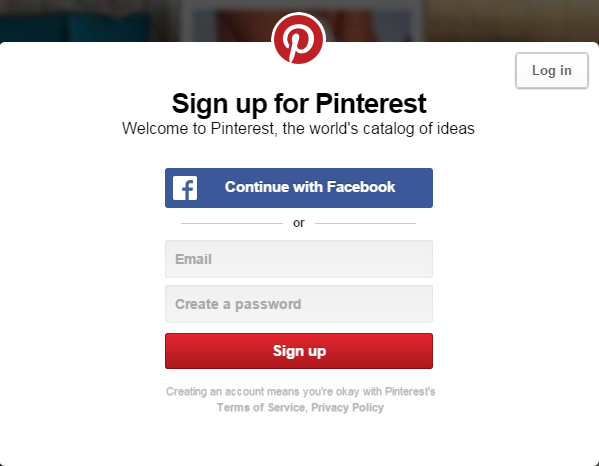 Complete Your Profile on Pinterest
Once you successfully created your account. It's time to complete your profile on Pinterest.
Upload Images – Upload your most current image or logo. Ideal image size for the profile image on Pinterest is 165X165 pixels.
Choose The User Name – However, it auto-fills while you create an account, but you can always change it with your desired username.
Add Your Bio – Write a specific Bio that includes at least one of your main keyword in it.
Add Your Location – Add your current location where you are located.
Add Your Website – Add the website that you want people to see when then visit your profile.
Define Your Pinterest Blog Board
Boards are where you save your Pins. You can make boards for anything and everything you want to save on Pinterest using save pin button.
For instance: If you are selling LED lights you should create separate boards for LED Bulbs and LED Tube lights.
Types of Board
Pinterest has specifically three types of boards that you can use:
Public Board – Public board is visible to everyone. Everyone can view and Repin the pin from your board.
Secret Board – Secret boards are the same as above, the only difference is they're secret. Only you and the person who has permission to view, edit the board can view the pins.
Group Board – Group board works the same way as public, but on this board, multiple pinners can share their content.
Set up Pinterest Board
I guess, by now you have understood what are the Pinterest boards and what are their purposes?
Now it's time to set up the Pinterest board. I would recommend you to create at least 8-10 boards.
Every board name should have specific product or service name. Boards are searchable, so make sure it has your main keywords.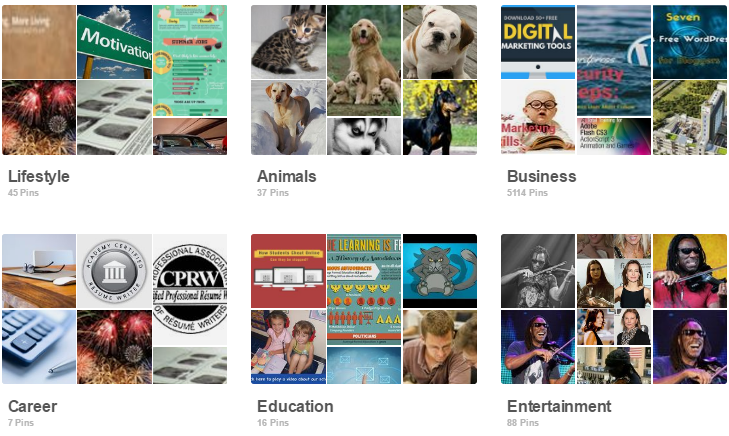 For example – If your blog focuses on multiple areas of blogging you can create separate boards for each such as – WordPress Tips, Blogging Tools, WordPress Plugins, etc.
At first, pin at least 5 posts on every board. Each board should have the keywords that you are currently using in your articles on your website.
Don't forget to add detailed descriptions while creating a board.
Make it easy for people to follow your boards
The first way, you can do this by using Pinterest 'follow me' button to your sidebar. Get the Follow Me button here.
And, second way to use HTML code ( Follow me on Pinterest!) in your blog posts.
Find The Best Content to Pin & Repin
You may ask my boards are ready, now what?
Dude! Now it's time to find the best content and pin. Like any good social marketer, you need to post engaging content that pleases your Followers.
Tips for Finding & Pinning Right Content
Search a particular keyword and phrases in the Pinterest
Pin your best-performing blog post that contains descriptive images
In case your blog post doesn't have any images you can upload it using an upload pin button and then add yours by editing that pin
Use Feedly to find the best content in your niche for the pin
Pin original and relevant content to your audience
Pin high-quality images and infographics
Keep an eye on your competitors and see what sort of content they are submitting on Pinterest.
Promote Your Pin
You are done with all initial set up and pinning. Now it's time to tell people about your Pinterest profile and the information they will get.
Don't let waste your all efforts just because of little promotion.
Following are the tips to promote your Pin:
Write a blog post about social media and add 'Follow Me on Pinterest' CTA (Call to action) at the end of the post
Share your pin on other social media sites (Facebook, Twitter, and Google Plus, etc.)
Add your Pinterest profile in your email signature
Add Pinterest social media share button on your blog
Add Pin it button your blog post images
Thank you so much for reading. I hope you find it useful and will start using Pinterest for blogging.
Very soon I will post an advanced guide of Pinterest. Stay tuned and keep visiting.
Let me know your thoughts in the comment section.