This is the most comprehensive guide to Pinterest for blogging.
In this guide, you'll learn how to use Pinterest for blogging and drive massive traffic with it.
(Including lots of advanced strategies that aren't hard to implement.)
Let's dive in.
Sign Up For A Business Account
To get the best of Pinterest you should register for Pinterest business account.
Why?
Pinterest business account gives you access to Pinterest analytics and provides critical information about your pins' behavior.
Additionally, you can apply for Rich Pins, which will let you share your more information than normal pins.
Currently, Pinterest provides three types of rich pins:
Product Rich Pins – It allows you to add current pricing, availability, and product information on your pin.
Recipe Rich Pins – It let you add a title, serving size, cook time, ratings, diet preference and a list of ingredients to recipes that you Pin from your website.
Article Rich Pins – With this you can add the headline or title, the description, and the author of the article or blog post from your site.
Since, your goal is to promote your blog posts, then you should use the Article Rich Pins. Make sure you add your article link when pinning.
Note- You need to apply for Rich Pins before you can start using it.
How to Sign Up For A Business Pinterest Account
If you have a personal account, go to pinterest.com/logout to log out
Go to pinterest.com/business/create/
Fill out your email, password and business name then select a business type
Click Create account
You can also convert a personal account to a business account. Here is how?
Log in to your personal Pinterest account
Go to pinterest.com/business/convert/
Fill out your business name and website then select a business type
Create and Name a Board After Your Blog
Create a blog board after your blog name or category for your blog articles. It makes easy for search engine as well as readers to find your articles on Pinterest.
For example – You are publishing content on personal finance then you can name your board like Your Personal Finance or simply Personal Finance Blog.
Having keyword in your board name will help your Pinterest board to appear in search results. 
Things to keep in mind when pining article to boards:
Write an optimized summary or quote from the article.
Pick a high-quality 1000 X 1500 pixels vertical image
Put your product or service front and center
Add your logo in each pin you make
Add links to the relevant page
Make sure you pin article to the right board. For example – if a reader wants to read post about mobile search engine optimization, he can easily find it on SEO board.
Write 1-2 lines description about the board to make it easy for readers along with a feature image to make it stand out.
Now you have a pin board ready, next thing you need to do is create a winning pin that make pinners to read your content and make a purchase.
According to Pinterest, pins that attract users are well optimized, have a meaningful description, logo and high quality image.
See the example below how a winning pin looks:

Let's see what it means:
Optimized – Write a meaningful description or quote that encourage pinners to take an action.
Branded – Add your logo in the product image to make it easy for people to understand that pin is from you. And, the image should be about the product or service that you are offering.
Focus on your copy description – Don't forget to add a call to action when writing a description for your pin. Simple CTA like "Click here to see more" will also work.
Use right size image for pin – The winning pin image sizes are vertical. Consider using 2:3 aspect ratio for all your pins. The ideal image size for pin can be 1000 pixels wide , by 1500 pixels tall because more than could get truncated. Here are other image sizes that represent 2:3 ratio.

Pins on Pinterest gets index fast in both Pinterest itself as well as in search engines. Make sure you optimize your blog post pins for SEO before publishing it on Pinterest.
To do that make your pins are accessible to search engine spiders.
Go to Settings->Privacy and data -> and uncheck the Search Privacy.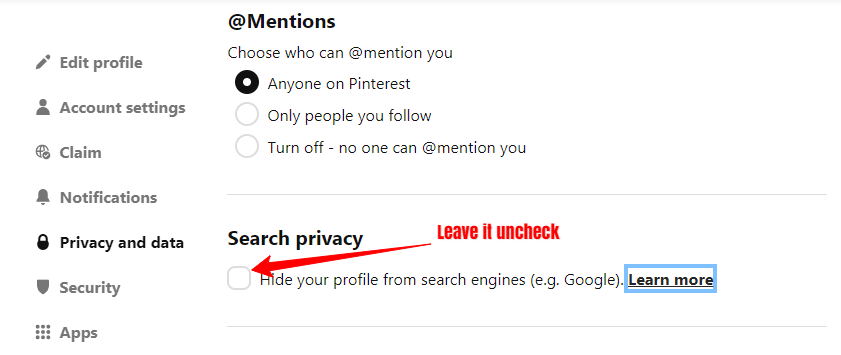 How to Optimize Your Pins for SEO
Use your blog title as your pin board title
Use relevant keywords to describe your post
Use hashtags if can't add keywords in description
Use keywords in your image 'alt' tags
See the example below of an optimized Pinterest Board.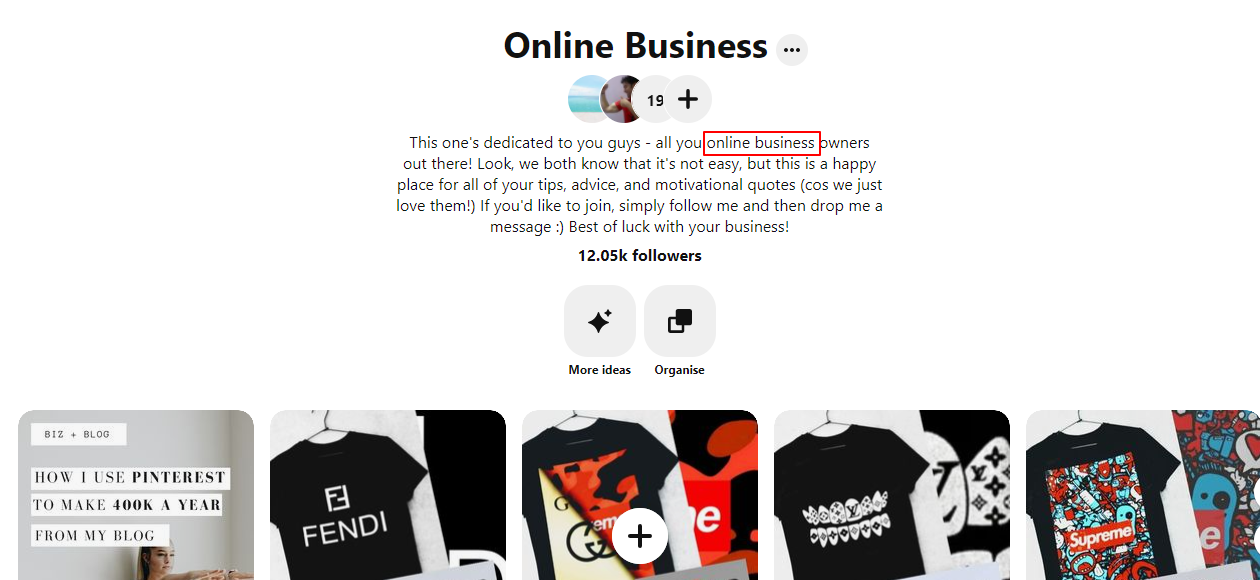 As you can see, the description has the targeted keywords in it without stuffing. You can write something like this or can add a quote from your blog post.
Create Related Boards on Pinterest
When your goal is to get organic traffic from Pinterest. You need to do things differently from other pinners.
Here is what I mean:
Consider your Pinterest account as your blog and create more boards as you create categories on your blog.
Different pin board will help pinners to find the related posts easily. For example – you are running a blogging websites where you share blogging tips and strategies then you can create pinboards like start a blog, make money online, affiliate marketing tips, etc.
Make sure you post related blog posts on related blog boards to avoid confusion. To engage pinners you can also pin others quality posts to your board. It makes your Pinterest boards more authoritative.
Join A Pinterest Group Board
Pinterest group boards are the best way to generate buzz about your blog. If you have engaging group boards where others can pin – it can give you more exposure.
You can grow your followers faster by joining a popular Pinterest group board. If you consistently publish quality pin on your board it will attract others to join your Pinterest board.
In your Pinterest homepage, your group boards look like this:

As you can see the profile pictures of other pinners who have join the board.
Here is a great tool PinGroupie that will help you find the active Pinterest Group in your niche.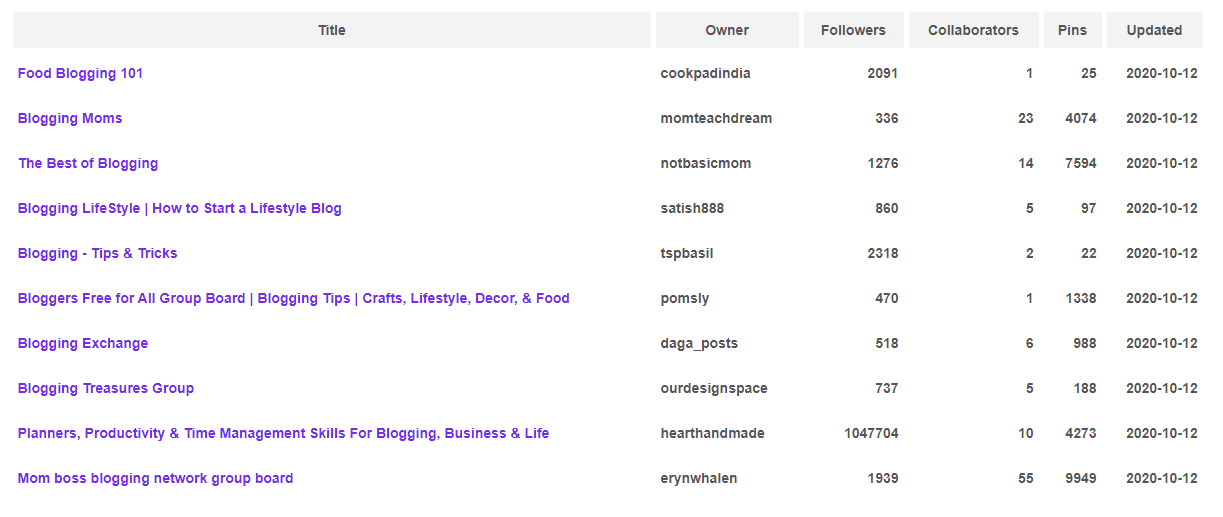 You can also personally message to other group creators and ask them to join their groups. Before you message them start pinning their content and engage with them. It will help you build a strong connection with them.
Use Pinterest Button on Your Blog
If you are running you blog on WordPress then you can use social sharing plugins to promote your blog on Pinterest.
There are many social sharing plugins on internet but when it comes to generate traffic then you should always go with the plugin which comes with more features like Social Snap.
Social Snap is a great social sharing plugin with its unique Pinterest specific features. It quickly lets your readers to share your content on Pinterest and increase the reach and traffic of your website.
Similar to other WordPress plugins install and activate it after downloading.
Now head over to Sharing Tab->Manage Networks and add the Pinterest button to your list. Make sure you add only network that relates to you niche. For example – adding LinkedIn will help you spread your voice to the right person if you are in a B2B niche.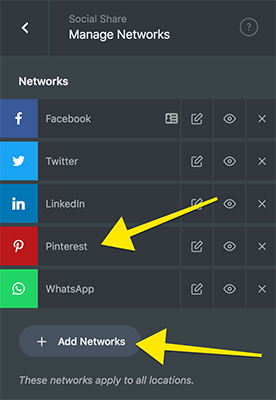 When it comes to positioning the social share button make it sticky with the blog post. This is where it gets noticed more. Many people place social share button on bottom of the post. People often don't go till the bottom and ignore social sharing buttons.
To get more traffic on Pinterest, turn on Social Snap's Pinterest Save Button feature found in Social Sharing tab -> On Media tab. When a visitor hovers over an image in your blog post, a red Save button will appear and when clicked, takes the visitor to straight to Pinterest to share only that image.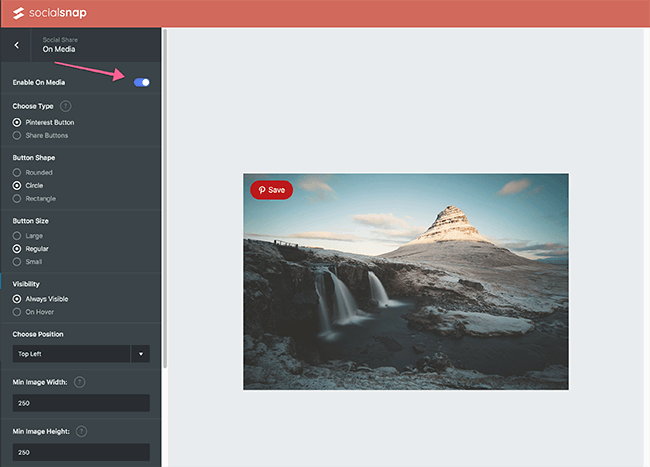 You can use Social Snap plugin for free with limited features. If you want to use its advanced features go with the paid plans this is where real magic begins.
You need to publish your content on the right to get noticed between thousands of pins.
The question is how to find the best day and time to pin?
Use industry research data.
One such research found that best time to publish on Pinterest is on Saturday morning. The peak time after 8 pm to 11 pm and 2 am to 4 am. Avoid publishing content on working time.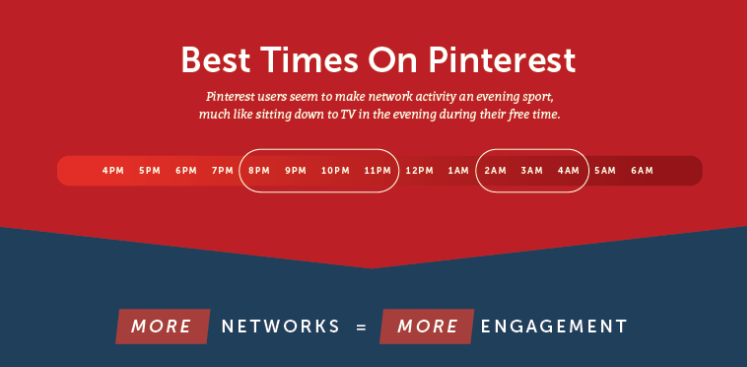 You can drill down further to find your target audience by looking at Pinterest Analytics. This is where you will get more insights about your target audience including your demographics and timing, etc.
Stick to a pinning schedule to get more traffic on Pinterest. Make a social media content calendar it will save you lots of time.
You can use tool like Tailwind to schedule your post on Pinterest. Tailwind will automatically pin at the best times for more engagement, reach, and website traffic.
I highly recommend using Tailwind when you want to generate traffic with Pinterest.
Beginners Guide to Pinterest for Bloggers – What's Next?
I hope you loved this ultimate guide to Pinterest for dummies. No one can stop you if you stick with your Pinterest plan and consistently publish quality post at the right time.
If you found this post help, share with others. Let me know if you have any questions on getting traffic from Pinterest.