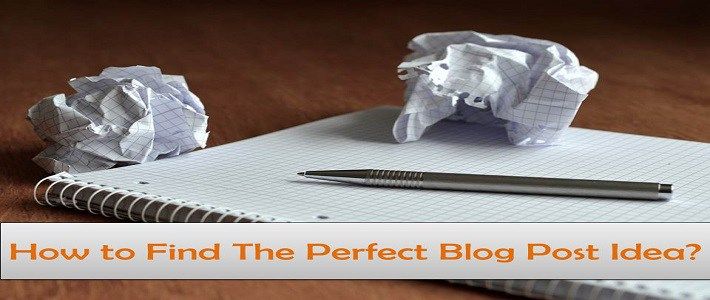 Are you keen of blogging or a big fan of content marketing like me?
Then this post is for you. In this post, I will tell you how you can become an idea machine for your next blog.
Content marketing is the first choice of every internet marketer these days. Don't let lack of content ideas become a hurdle in your success.
Here is a confession, Today's topic is influenced by one of my colleague's problem! While I was busy in some work, he spent more than one hour thinking what to write about. Just after completing my work I started giving him some suggestions on how to find the topic ideas for the blog.  While I was suggesting him topics, this brilliant topic stroke my mind.
Lucky me! I didn't have to spend time thinking about my new blog topic.
Well, my way of finding the content ideas is very simple. Just find your reader's problems and you will get amazing topics. This was the main solution that I gave him for writing his content.
Just read the complete article and you will know how to get the right topic ideas from your reader's problems.
Following are the tips to get the perfect blog post idea that I gave to him. I hope you will also find them helpful.
Use Brian Dean's Skyscraper Technique:
Brian introduced this technique for building backlinks, but we can use it for getting new blog topic ideas.
I just love this technique. I put this on number one because it can help your post to rank on number on in Google's search results.
The SEO guru Brian Dean introduced this technique in the SEO world and it actually works in getting ranked on number 1.
All you have to do is, just search for a link-worthy content, write a better content than that and reach out to the right people. Read how to use sky scraper technique here.
2. Use Quora's Questions:
Content marketing is all about finding a problem that your audience is facing and providing them its solution. Quora.com is one of the most popular communities where people ask for a solution for their problems.
Yes, you are going right, the questions on quora.com can be your next blog topic.
Just type your query in the search box hit enter and aha… here is the list of the topics for your next blog post.
Choose the topic that has a lot of followers, and provide its solution in your next blog post. Let your readers fall in love with what you tell them!
3. Get Ideas from the blog comments:
Blog comments is yet another way to find your blog post ideas. When you publish a blog, readers share their problems. This is because they are expecting you to suggest solutions for the same.
Use their problems as a topic, write your creative solution as a blog post and tell them that you have answered their question in your next blog post.
It is also a good way to please your audience.
Is your blog new? Or you haven't attracted much audience to post comments on your posts? Then don't worry! Go to any influencer's blog of your niche, browse the comments and find a problem to write upon.
To give you an example, I took this screen shot from the comments on Neil Patel's blog.
After reading this comment, may be you would like to write about '17 Tips to Get Rid of Comment Spam' or 'CommentLuv and Disqus – A Comparative Case study'.
4. Make your existing posts more descriptive:
Yes, you can also update your existing content that have been outdated or add some more information in your existing content to make it more compelling. I'm sure your audience is going to love it!
Everybody wants to get updated these days, and your audience will also love to read your updated posts. It will help you to get better search engine ranking because the search engines too love updated content.
Many influencers also use this tactic, to impress their audience. Check out the following posts for example:
You may also try this technique, it takes less time and gives better exposure.
5. Write about the things in trend:
Almost every person wants to read about a trending topic. Just find a hot topic in your niche and start writing about the same.
I know you are wondering how to find the trending topic. You may use following tools to it find out:
Google Trends

: It is one of the best tools to find out what is community looking for. You may also precise your search by selecting a particular region.
To give you an example, I searched content marketing on Google Trends and clicked on the rising button. It came up with numerous terms. You may write about 'content marketing strategy', 'marketing strategy'.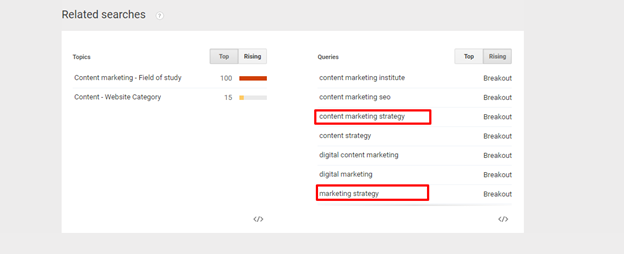 Buzzsumo

: It shows the most influencing topics on social media. Although, it is a paid tool but shows top ten results for free. That can help you to get an idea of the hot topic.
Reddit

: Reddit is a place where people share their views on almost every topic. It is one of the most crowded websites on the internet. That is why it is a good place to search for a latest topic.
6. Write your own story:
You may also write your own success story. Everybody has achieved something in his/her life that many others are struggling for.
Just stumble your mind and come up with your own success story that your audience is looking for.
You may write it as a case study, podcast, infographic or any other way you like.
If you are not able to find any success story, then just write about your failure!
I know you are thinking that I'm kidding, but I'm damn serious!  
Dr. A. P. J. Abdul Kalam once said, "Don't read success stories, you will only get a message. Read failure stories, you will get some ideas to get Success."
Why don't you help others by telling them how not to do any particular thing? Or you may write on a topic "15 Mistakes I Made for Doing ___________ that You Should Not Repeat." Or you may try "7 Mistakes I made while ________."
7. Let tools on the internet generate some topics for you:
There are a lot of people who have struggled with this issue before you.
It is a very famous quote that "Every problem has a solution". That is why, some enthusiasts have already built some useful tools for you to generate the topics for your next blog post.
You may check the following tools to generate the topic:  
8. Use somebody else's mind:
If you are not getting enough topics in your mind, then borrow someone else's mind who has the idea about your industry. Just let him bring an idea for you on that you can write about.
Sometimes, your friends or colleagues from the same industry can give you a great title.
Just call your friends or take help from your social media friends to provide the topic idea for your next blog.
If your friends are not from the same industry as yours, they can also help! Just treat them as your audience and ask them about the problems which they are facing. (Thinking I'm nuts?) Maybe I'm. But in this case, I can help you buddy!
Imagine you are working for computer repairing company and you meet a friend who uses a computer or laptop. Umm… I think these days everybody does.
Ask your friends about the problems they are facing with his computers and provide the solutions in your blog post.
For example, if his/her problem is slow speed of the computer, then you have simply got the topic of your next blog post! "Struggling with Slow Computer? Try these 17 Tips to Fix it".
So, the formula is simple; find the blog topics from the problems of your audience.
9. Ask your readers what are they struggling with:
It is one of the best ways to get genuine topic ideas. Just send an email to all your readers and ask them what they struggling for?
In my opinion, nobody else can give you a better suggestion than your readers.
Every blogger's primary goal is to keep his/her audience happy. Just write an appealing email, send it to your subscribers and flood your inbox with ample of ideas.
You may also run a survey on your website and take votes for 2-3 topics from your audience and write about the topic which get the highest votes.
10. Jot Down Your Own Ideas:
This one is my favorite. You may also try this –
Our minds are the best ideas producing machines, we don't know when a content idea strikes our mind. But it keeps on generating wonderful ideas every time.
All you have to do is – note down the idea just after it strike your mind. I have installed Evernote in my smartphone to do this job. You may also do the same or just keep a small notepad in your pocket every time to note down your ideas.
Believe me, these notes work as a wonderful topic generation tool when you struggle for finding the topic for your next blog.
11. Use Online Topic Generation Tools:
If you are totally out of the ideas, then you may use the topic generation tools. There are so many tools to get the blog post ideas. Some of them are as follows:
Hubspot's Blog Topic Generator:

Hubspot is one of the best tools to get the blog post ideas available on the web for free. In the Hubspot's tool you have to insert 3 nouns and it will come up with the 5 blog post titles which you can use for your next blog post.
Portent Content Idea Generator:

It is one of the simplest tools to get the epic content titles. Just insert your keyword in the subject field and hit the search button. It will show you a new title every time you hit the refresh button.
Upworthy Title Generator:

Upworthy is well known for generating the viral blog post ideas. It generates the article ideas in Upworthy-style.
Blog Title Generator by BlogAbout

:

It is also a nice tool with the elegant design. It gives you the structure of the titles in which you can fit your keywords accordingly.
Link Bait Title Generator

:

Link Bait is also a simple to use tool. It saves your time and efforts, all you have to do is just insert your keyword and hit 'Get Linkbait' button. It will show you a list of titles from which you can choose the best one.
ContentIdeator

:

Content Ideator is similar to Link Bait Title Generator, it also gives you numerous title suggestions just by inserting a keyword.
Conclusion:
So, what are you waiting for? Now you have super powers to get a lot of ideas for your next blog posts. All you have to do now is – just start using above mentioned tips or become your own idea machine.
Just keep writing and keep sharing. If you know any other way to get more blog post ideas, just comments below. Your reviews about this post are valuable.
Thanks for reading and stay tuned.